Shamut Design and Construction
M. Cohen & Sons
Pilkington North America
Saint Gobain Glass
Chanel – New York City Flagship
Oversized at up to 192″ in size, this monocromatic storefront on East 57th is a feat in fabrication with heavy-hitting, 3,000 lb laminates and a digitally-printed perimeter frit band to complete the standout signature facade for Chanel's New York City flagship.
48,000 lbs of Glass
Chanel's redesigned flagship store on East 57th ave includes over 48,000 lbs of fabricated glass from AGNORA. The black and white facade -a play on Chanel's signature tweed- includes 16 oversized panels at 124"x192", with each panel weighing over 3,000lbs.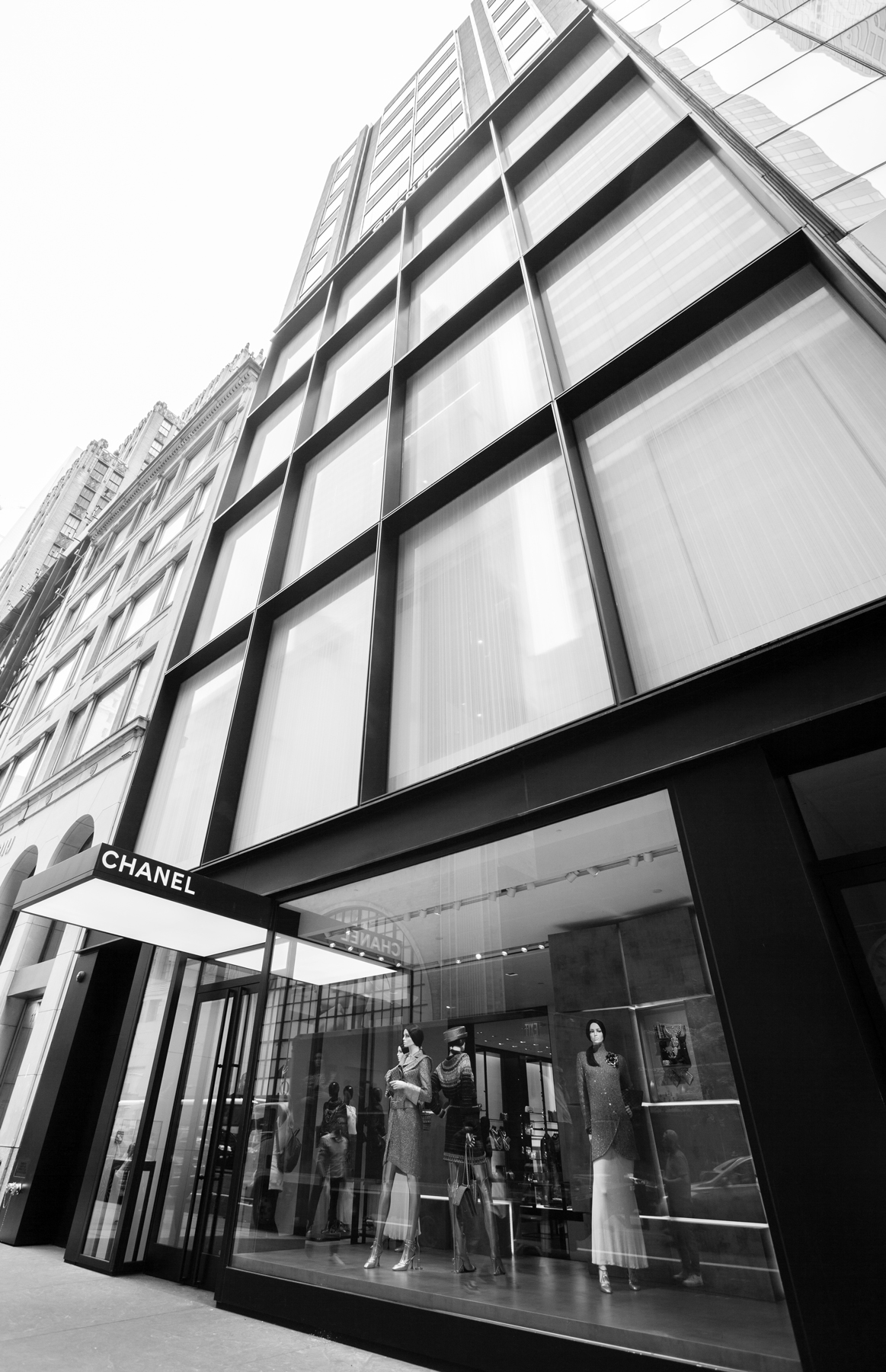 OVERSIZED LAMINATES
Since the panels incorporate a striated pattern (applied post AGNORA fabrication), we used a low-iron extra clear float glass with very high light transmission for transparency and purity of colour.
Laminated with 2 layers, including jumbo SentryGlass interlayers, the panels were heat-strengthened, combining solar control with thermal insulation properties.
DIGITALLY-PRINTED GLASS
A black ceramic frit border was digitally-printed to provide a clean sightline.
INSTALLATION: KEEP IT SIMPLE
To install such heavy units, in a high-traffic concentrated area, AGNORA recommended a toggle system to attach the glass to the building.
SAFETY GLAZING FOR STOREFRONT
In order to provide greater resistance to thermal, mechanical stresses, and achieve specific break patterns for safety glazing applications, the glass for the Chanel storefront was heat-strengthened.
Heat Strengthened Glass is produced with surface compression levels less than fully tempered glass. These lower compression levels yield a product that is generally twice as strong as annealed glass of the same thickness, size and type.
Check out more oversized laminated facades:
H&M 5th Ave Flagship
Microsoft 5th Ave Flagship
Historic Palmolive Building Chicago