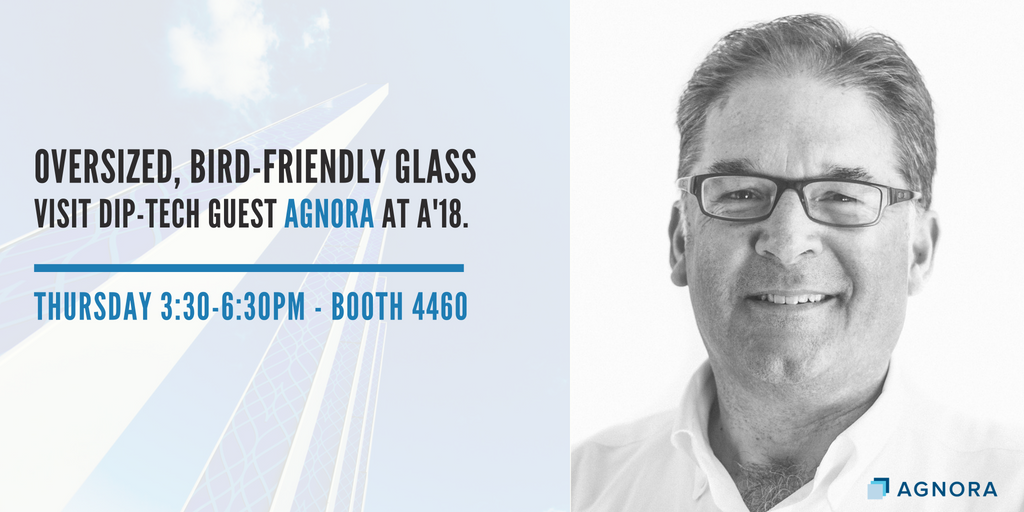 On Thursday, June 21st, AGNORA's Kevin Nash & Jeff Wilkins will be visiting the Dip-Tech booth to talk about oversized, digitally-printed glass and how to bring your "oversized" designs to life.
This year, AIA's theme is "Building a Better Blueprint" and that includes the impact of materials; where they come from, what's in them, and their life expectancy. Digital-printing can offer benefits such as: energy efficiency, solar control, safe-handling, simplification for urban renewal & preservation projects, the prevention of extensive refurbishment (by flawlessly replicating existing panels) and one of our favorites….. the reduction of bird collisions.
AGNORA is home to North & South America's largest digital ceramic in-glass printer. We can print up to 130"x300". Our highly skilled Digital Print Technicians use the AR8000W to provide digital in-glass solutions that combine the durability of ceramic inks with the versatility of digital printing.
In honor of the upcoming event, we are reviewing two of our favorite print projects, KANSAS UNIVERSITY & CADILLAC FAIRVIEW'S SHOPS AT DON MILLS. These projects  were not only spectacular in scale and beauty, they also represent a technical achievement that has pushed AGNORA's decorative glass offerings above our own expectations. Success of these projects hinged on AGNORA's technical ability to produce the clients' imagery/branding with accuracy and precision. With dozens of necessary internal samples and progressive mock-ups, the digital ceramic print quality evolved to a standard of level not thought possible.
Kansas University – The History of Basketball

The glass mural, measuring 66' 1" wide x 12' 4" tall, with a digitally-printed depiction of the history of Kansas University Basketball is comprised of 13 panels. The wall serves both function and esthetic as a decorative guardrail.
AGNORA was contracted to laminate the panels and to print a series of high-resolution images. The combined images appear seamless as one long mural. As images carried across the panels, alignment was critical to the fabrication process as was ensuring the accuracy of KU's proprietary team colours. With the use of AGNORA's CNC machines, all panels were accurately sized to 1/16". To ensure a spotless surface on which to print and enhance quality, proprietary pre-washing was employed. Learn more about the project here.
Cadillac Fairview – The Shops at Don Mills

The Shops at Don Mills features 12m tall gateway pylons for the mall's main entrance and 10m tall pylons for the secondary entrance. Twenty-seven 3m tall signs mark the intersections of the mall and provide parking space information. Extending from daytime to nighttime, all of the pylons are brightly visible with backlit graphics to provide wayfinding and parking space information (check out how closely we matched the official "red" of the stop sign). AGNORA fabricated both monolithic and laminated tempered glass for the Shops.

This project was a design-build project with uniquely challenging aesthetic and graphic needs. AGNORA went to "great lengths" to achieve the desired color and preserve the design intent, creating a stunning effect both during daylight and when backlit at night. Learn more about the project here. 
The Process
AGNORA's digital printing process applies ceramic ink directly to the glass surface. After printing, the glass goes through our tempering oven; fusing the ceramic ink permanently into the surface of the glass. This results in powerful resistance to scratching, UV, and weather; ensuring long-lasting vivid colors. The printed glass can then be laminated or insulated.
Whether searching for functional and eco-friendly solutions such as solar control or seeking leading-edge technology for artistically vibrant and creative visual displays, digital ceramic printing offers a field-proven solution for exterior and interior glass printing applications.
Stop by Dip-Tech booth #4460 to chat with AGNORA about how we can help you realize your extraordinary vision.
Want more inspiration? Visit www.agnora.com/projects to see our latest work.