Toronto, ON, November 17, 2016 – Last evening, The Canadian Chamber of Commerce and Grant Thornton LLP proudly recognized the Top 10 Private Business Growth Award Finalists, and announced the first place winner – AGNORA Inc., at a formal gala held at The Design Exchange in Toronto, hosted by Canadian business journalist, Deirdre McMurdy.
The Private Business Growth Award is a national award program designed to pay tribute to the integral role that Canada's private businesses play in growing our country's economy.
Founded in 2011 in Collingwood, Ontario, AGNORA Inc. has achieved impressive and sustained growth through their market focus, strategic leadership, dynamic team culture, exceptional customer service and strong partnerships.
"We couldn't be more honoured to receive such a prestigious award." says Richard Wilson, President & Founder of AGNORA, "Our sincere appreciation goes out to Grant Thornton and the Canadian Chamber of Commerce and most importantly, our people. It is through their dedication and exceptional talent that we are able to do extraordinary things."
The business pushed new boundaries to attest to what is truly possible with architectural glass, designing and fabricating the largest architectural glass in North America. Their success has also helped to revitalize the local Collingwood community, bringing jobs, opportunity and economic growth.
"This year's winner has proven yet again that innovative leadership can result in new and prosperous growth pathways," says The Honourable Perrin Beatty, President and CEO of The Canadian Chamber of Commerce. "AGNORA Inc. is one of Canada's leading private businesses making their mark, helping to drive our economy forward."
"The Private Business Growth Award was created to recognize, validate and celebrate private business success stories across the country," said Kevin Ladner, CPA, CA, CBV, CEO and Executive Partner, Grant Thornton LLP. "It is occasions such as these which inspire others to reach new heights and experience new growth. I commend AGNORA Inc. on its achievements."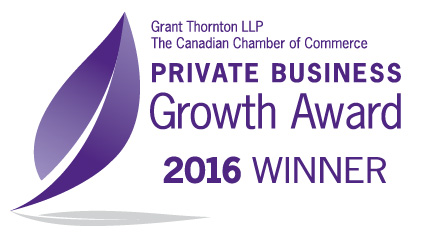 The 2016 winner and Top 10 Private Business Growth Award Finalists were selected by an independent Jury of accomplished business leaders, who recognized the companies for their successful, sustainable and holistic growth strategies. Jury members used five key criteria to assess strategic growth across various aspects of the nominees' businesses:
Innovation: Developing new products and services, bringing old products to market in a new way, as well as improving the efficiency and effectiveness of internal processes.
Market development: How they go to market and expand into new domestic or international markets.
People and culture: Investing in their people by helping employees learn and develop as a critical part of overall growth.
Strategic leadership: How they interact with partners, stakeholders, their succession planning and community involvement.
Improvements in financial measures: Ensuring revenue growth and improvements in profitability.
This year's accomplished jury included:
The Honourable Perrin Beatty, President and CEO, The Canadian Chamber of Commerce
Phil Noble, Past CEO and Strategic Advisor to Firm Leadership, Grant Thornton LLP
Christiane Bergevin, Yamana Gold
Peggy Cunningham, Professor and RA Jodrey Chair, Dalhousie University Business School
Malcolm Hunter, President, Deeley Group of Companies
Sean Stanleigh, Managing Editor, Globe Content Studio, the Globe and Mail
Paul Straus, President, Home Hardware Stores Limited
About AGNORA Inc.
Founded in 2011 by Richard and Laura Wilson, AGNORA is a customer service company that fabricates the largest architectural glass in North America. An industry-disrupting, team-based customer service culture coupled with innovations in the production process, have allowed AGNORA to push the boundaries of what is possible with architectural glass to meet to meet the design objectives brought to them by their customers. AGNORA is the only company fabricating up to 25-foot-long glass on the continent, providing products previously only available from companies based in China and Germany. The 225,000-square foot production facility in Collingwood, Ontario functions as a custom fabrication shop, supplying glass to a variety of cultural, residential, commercial, and retail projects including over 100 Apple Stores in North America. The original 6 employees have grown to a team of 72 committed to setting new industry standards for both service and quality. Continual investment in process improvements, education and equipment has resulted in products of a quality far in excess of the industry's standard specifications.
Learn more about AGNORA at www.agnora.com
About the Private Business Growth Award
The Private Business Growth Award recognizes Canadian-owned, privately-held businesses that have been in business a minimum of three years, have $5 million or more in revenues and have demonstrated outstanding strategic growth. A partnership between The Canadian Chamber of Commerce and Grant Thornton LLP, 2016 marks the fourth year this national business award has recognized and celebrated the successful growth of private businesses in Canada. A jury of high-profile Canadian business leaders selects 10 finalists and one winning company based on the following criteria: innovation, market development, people and culture, strategic leadership, and improvements in financial measures.
For further information, to arrange an interview or request a photo, contact:
Alison Smith
AGNORA
1 (705) 444-6654 x163
a.smith@agnora.com