Oversize AGNORA insulated glass units welcome visitors to the high altitude Art Museum in in downtown Aspen, Colorado.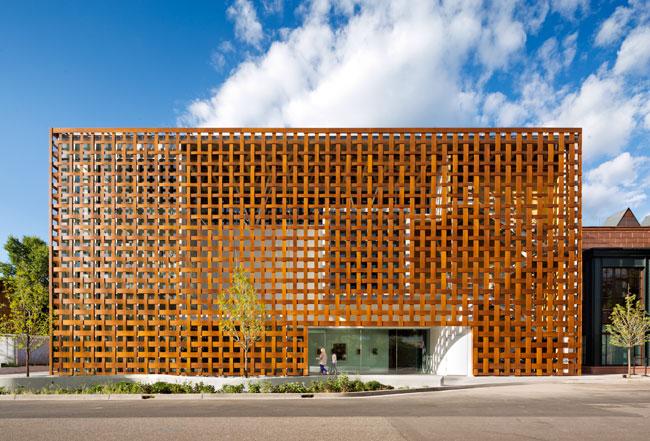 The Aspen Art Museum, as featured in the August 2014 issue of Architectural Record by Denver writer David Hill:
Woven into Place: Shigeru Ban's first U.S. building since winning the Pritzker adds a landmark to a city's downtown while looking out to its Rocky Mountain setting.
Stand on the corner of South Spring Street and East Hyman Avenue in downtown Aspen, Colorado, and you see two entrances to Shigeru Ban's box-like Aspen Art Museum, his first completed project in the United States since winning the 2014 Pritzker Architecture Prize. To your right is the main entrance, a recessed section in the building's striking woven-lattice exterior. To your left is a smaller cutout leading to a 10-foot-wide grand staircase, sandwiched between the woven screen and a glass curtain wall. Walk up the stairs, and you'll find yourself in the rooftop sculpture garden, with its spectacular views of Aspen's ski slopes and 12,095-foot Independence Pass.
The 33,000-square-foot, $45 million project adds to that architectural legacy, and replaces the Aspen Art Museum's longtime home, a former power plant near the banks of the Roaring Fork River. Zuckerman Jacobson, who took the museum's helm in 2005, led efforts to move to a larger facility, and in 2008, the museum announced the selection of Ban, from a list of 36 firms under consideration by the museum, to design a new building. His original scheme, for a sloping site in a five-acre swath of downtown—part of a multimillion-dollar redevelopment plan to create a new civic center—was scrapped in 2009 when voters rejected the sale of a former youth center that would have been razed to make room for the museum. After the vote, museum officials decided to look elsewhere.
From the exterior, the museum's main feature is the basket-weave cladding that covers its two street-facing facades. The slats, "woven" together on-site, are made from a paper-and-resin composite sandwiched between two thin layers of brown okoume wood protected with a UV coating. The density of the weave changes from top to bottom and as it moves away from the corner of the building. Practically, the screen provides shade from the intense Colorado sunlight. Aesthetically, it helps give the museum a craftsy, homemade quality, despite its bulky presence.
Because the museum has no permanent collection, the program called for open, flexible spaces that could accommodate a variety of contemporary artwork. All six galleries are column-free, with 14-foot-high ceilings. Ban calls them "very practical white boxes." Although several galleries are partially illuminated by skylights, they are essentially blank slates. A show that pairs work by David Hammons and Yves Klein feels uncluttered, with paintings, drawings, and prints generously spaced on stark walls. The museum's largest gallery, which occupies most of the second level, contains an exhibition of full-scale disaster-relief structures designed by Ban. It runs through October 5.
At almost every turn, visitors to the museum can look out to Aspen's stunning mountain setting. A small lounge off the second-floor gallery, for example, has views through large openings in the lattice to nearby Red Mountain. The grand staircase actually has two parallel parts: that 10-foot-wide section between the glass skin and the exterior screen, and a 5-foot-wide section running inside the building, but either route offers glimpses of treetops and surrounding mountains. Even the large public elevator, in the building's most prominent corner, has glass walls—Ban calls it a "moving glass room."
About the Aspen Art Museum
The Aspen Art Museum is a non-collecting institution presenting the newest, most important evolutions in international contemporary art. Our innovative and timely exhibitions, education and public programs, immersive activities, and community happenings actively engage audiences in thought-provoking experiences of art, culture, and society.
See more project pictures here.