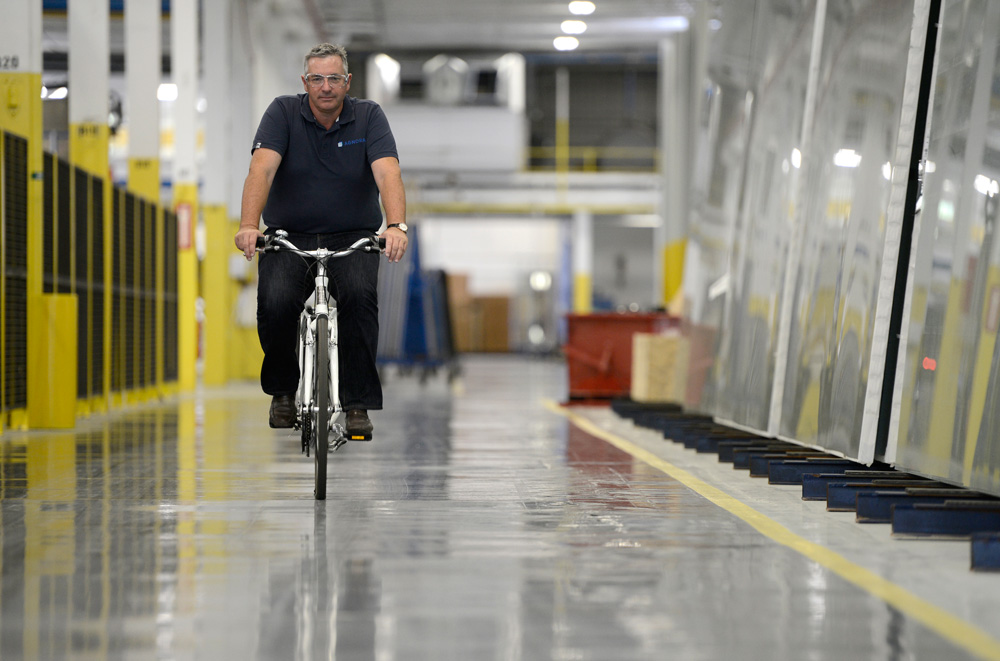 AGNORA president Richard Wilson was selected by USGlass' editorial team "not for what they have already done, but for what their positions and leadership roles allow them to do, and how they can change the industry through their business practices." Richard shared some of his views on the industry, including its opportunities and challenges.
"Richard Wilson and his wife Laura have led the development of a team-based customer service culture coupled with innovations in the production process. His company is also a leader in the emerging field of jumbo glass. He brings strategic leadership, a dynamic team culture, exceptional customer service and strong partnerships. With customers, strategic partners, suppliers, and his own employees, he has infused customer service in all aspects of his partnerships and business interactions,and has built an internal process with the goal of keeping the customer in mind in everything that AGNORA does."
"Have passion for what you do, believe in your people and don't be afraid to take risks."
– Richard Wilson, on developing the next generation of influencers.
Read the full article here: USGlass Influence Makers.
ABOUT RICHARD
Richard Wilson is a lifelong entrepreneur. By age 21, he had built up the largest house painting business in Toronto, Forest Hill Painting. His other ventures have included a retail bike store (Kamikaze), Ontario's first bungee jumping business, and construction management (Wilson Project Management).
Founded in 2011 by Richard Wilson and wife Laura, Richard has built a customer service company that fabricates the largest architectural glass in North America. An industry-disrupting, team-based customer service culture coupled with innovations in the production process, have allowed AGNORA to push the boundaries of what is possible with architectural glass to meet to meet the design objectives brought to them by their customers.
The original 6 employees have grown to a team of 72 committed to setting new industry standards for both service and quality. AGNORA has achieved impressive and sustained growth through their market focus, Richard's strategic leadership, dynamic team culture, exceptional customer service and strong partnerships.
Whether it is with customers, strategic partners, suppliers, or his own employees, Richard Wilson has infused customer service in all aspects of his partnerships and business interactions. AGNORA's customer service culture is renowned in the industry and his community.
Richard believes that happiness is an important part of being at work since the majority of our day is spent there. The environment is designed to make employees love coming to work and to inspire them to deliver their best.
He has implemented health and wellness amenities that keep his employees healthy and happy, which ultimately leads to better work performance and job satisfaction. Amenities include an onsite massage therapist, full-facility gym with access to a personal trainer, wally-ball court, an on-site doctor, an oversized (of course!) company garden, bikes and more. These amenities, such as an on-site doctor means that there is a reduction in missed work as employees can often be treated on site & return to work..
Richard has created a team-oriented culture where open communication, flexibility and innovation are prized as their greatest assets in achieving their goal of constantly exceeding customers' expectations. He has implemented a flat, organizational structure with an open-door policy.
AWARD-WINNING LEADERSHIP
Under Richard's leadership, AGNORA has won numerous awards including:
The 2016 Private Business Growth Award, by The Canadian Chamber of Commerce and Grant Thornton LLP, paying tribute to the integral role that AGNORA plays in growing the economy. It has recognized AGNORA for its innovation, market development, people and culture, strategic leadership, and improvements in financial measures.
A Canada's Top Small & Medium Employer for 2016, 2017, and 2018: An editorial competition that recognizes enterprises that offer the nation's best workplaces and forward-thinking human resources policies. AGNORA's investment in employee health and wellness is just one of the many reasons they have received this award.
2016 Finalist for the EY Entrepreneur of the Year Program. In 2016, Ernst & Young recognized Richard Wilson for AGNORA's financial performance, his vision, leadership, personal integrity and entrepreneurial spirit. Richard Wilson, was selected in the manufacturing category for deploying leading edge technology and top-performing equipment.
A Canada's 10 Most Admired Cultures: Waterstone Human Capital recognized Canada's 10 Most Admired Cultures which included AGNORA Inc. as one of the winners. This national program, recognizes best-in-class Canadian organizations for having cultures that enhance performance and sustain a competitive advantage.
Richard is passionate about learning, exceeding the expectations of his customers, and finding ways to build mutually rewarding partnerships with all stakeholders in his business. He supports a variety of local charities and is active in both the Collingwood Chamber of Commerce and the Region of Simcoe County to promote business development in the area.